Wrapping Machine
With the esteem support of our experts we offer a wide range of Industrial Wrapping Machine such as reel wrapping machine, luggage wrapping machine, horizontal stretch wrapping and many more. Our ranges of products are available in various capacities and shapes to suit the specific requirements of the customers. These machines are widely used at different types of industries like Food, Pharmaceuticals, Garments, Chemicals and many more. These are special type of packaging machines used to seal and pack the household and factory materials.
<< Go to Automation Roll Packaging Machine
Fabric Roll Wrapping Machine
Video: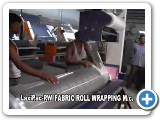 jquery lightbox by VideoLightBox.com v3.1
Features:
Highly economical and huge savings over shrink packing/gunny bundles
Suitable for packing any rolls of denim cloth, Curtain cloth, Carpets, Foam sheets, Upholsteries, Fabrics, Film, Paper etc.
Tremendous savings in labour time and money Highly durable dust and moisture proof packing
Variable overlap, Variable end reinforcements, Variable stretch percentage Variable roller speed
High energy saving more than 90% saving over shrink wrapping.
Technical Specification:
Capacity : 30 - 40 Rolls/Hour
Roll Weight : 400 kgs
Roll Dia/Roll Width : 600mm 1800 to 400
Turn Table Height &nbsp : 350mm (above GL)
Turn Table Speed : 50 mtrs/ min
Installed Power : 1.1kW
Power Supply : 220 V Single Phase / 50Hz
Rotating Platform for Stretch Wrapping Machine (Pelletized Load)
Features:
Variable-functions for wrapping, stretching end overlapping
Acoustic wrapping cycle
Environment friendly for recyclable film
Built for long life
Ramp position flexibility
Hand pallet truck for smoother operation
Technical Specification:
Turn Table Dia : 1500mm
Max. Dia. of The Inspection Roll : 400mm
Production Speed : 15-25 Pallets/Hour
Electric Power : 2HP (Two Motor)
Pallet Size : 1120 *1120mm
Max. Weight/ Pallet : 1500 kg
Stretch Wrapping Machine
Technical Specification:
Carton Size : 20 20" (max)
Carton Weight : 50 kg(max)
Wrapping Rate : 30 to 80 Cartons/Hour
Power Reg &nbsp: 220v Single Phase 1 HP
Shrink Film Tunnel Machine
Features:
Efficient heating chamber with full insulation
Digital temperature controller
Low power consumption
System runs on one circuit
Suitable for LDPE & polyolefin shrink film
Magnetic hold-down
Ouik change of seal wire
Variable speed of tunnel (Optional)